<![if !vml]>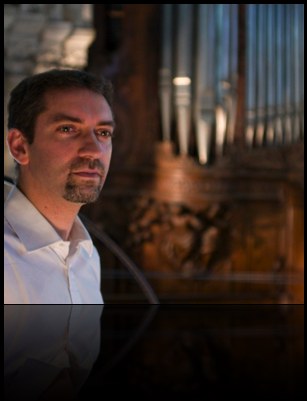 <![endif]>Born in Nantes in 1968, Henri-Franck Beaupérin was Gaston Litaize's pupil and winner of Paris Conservatory's first prize for organ performing and improvisation.
He participated and won several international competitions in Tokyo, Budapest and Lahti.
Beaupérin was revealed first to the public in 1995 when he received unanimously the first prize for interpretation at the first international competition in Paris.
In 1998 he became titular organist of the Cavaillé-Coll organ at Angers' cathedral, a prestigious instrument for which he works on promoting and preserving.
As a privileged interpreter of the symphonic repertoire, he is a well known improviser and has accomplished several transcriptions for the organ like "Prelude, Choral and Fugue" of Cesar Franck and "L'Anneau de Salomon" of Jean-Louis Florentz, objects of numerous recordings.
As an organ professor, he teaches organ and improvisation in Angers in addition to master class sessions, including the "Académie d'Improvisation à l'Orgue des Pays de la Loire" where he has been the director since its inception.
He regularly takes part in numerous international festivals in Europe, Asia and America.
His art as an interpreter is founded and enriched by a deep knowledge of the organ building traditions and its evolution. For that reason he has been an adviser for the restoration and rebuilding of numerous instruments.